DESIGNED FOR STUDENTS TO FEEL SELF-AWARE AND CONFIDENT THROUGH EACH STEP IN THE COLLEGE ADMISSIONS PROCESS.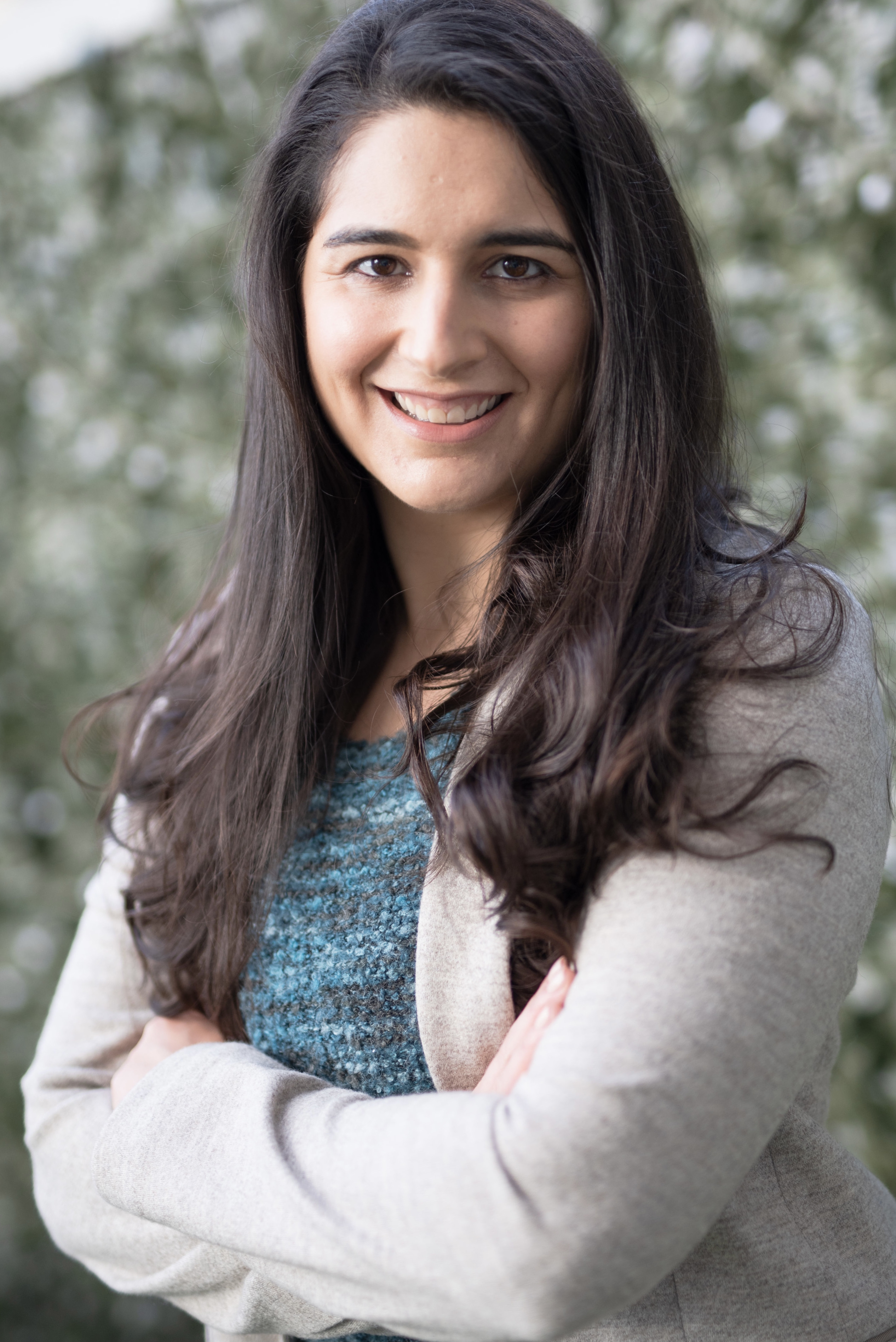 Hi! I'm Sami!
Welcome to my Comprehensive College Admissions Support Program!
I love to help students build confidence at each step of the college application journey. I have a 13 year track record guiding students and getting them accepted into top tier programs, both private and public universities (with significant financial and merit aid!). 
My former professional background was in recruiting, marketing and sales - thus, I come at this process with the desire to foster practical skill-building and storytelling. I am also a mom of an adorable toddler, so I bring love and heart to each of my students, and understand how college fits as a puzzle piece into a bigger life view.
I have a B.S. in Communication from Cornell University and an MBA from the Kellogg School of Management at Northwestern University. I am also currently enrolled in UCLA's College Counseling certificate program (and will likely finish the program in 2023).





Student Testimonials

"I cannot thank Sami enough for all of the help she has given me over the 9 months that I have worked with her for. She helped me find and research the colleges I wanted to apply to, helped me get a really great internship, and helped me so much with writing all of my college essays. I could not have done any of this without her help. Sami is super friendly and honest about what she thinks will be best in terms of schools/internships/essays. Thank you so much for everything Sami!!!!!"
-Gabriella, New Jersey
"Sami was so helpful in every step of the college application process- from building my school list and selecting my major, to putting the final touches on my essays. I really recommend her to anyone who feels lost about applying!"
-Maria, California
"Sami was very personable and easy to work with. Her knowledge and experience was very reassuring. She really helped get my essays into shape and help reduce the stress of prepping the various school applications. She took the time to understand what I'm looking for and helped us pick schools we can afford. Sami was very flexible and able to accommodate my school schedule. We worked days and evenings. Sami's support in the whole process was so great!"
-Nina, Colorado

College Acceptance Results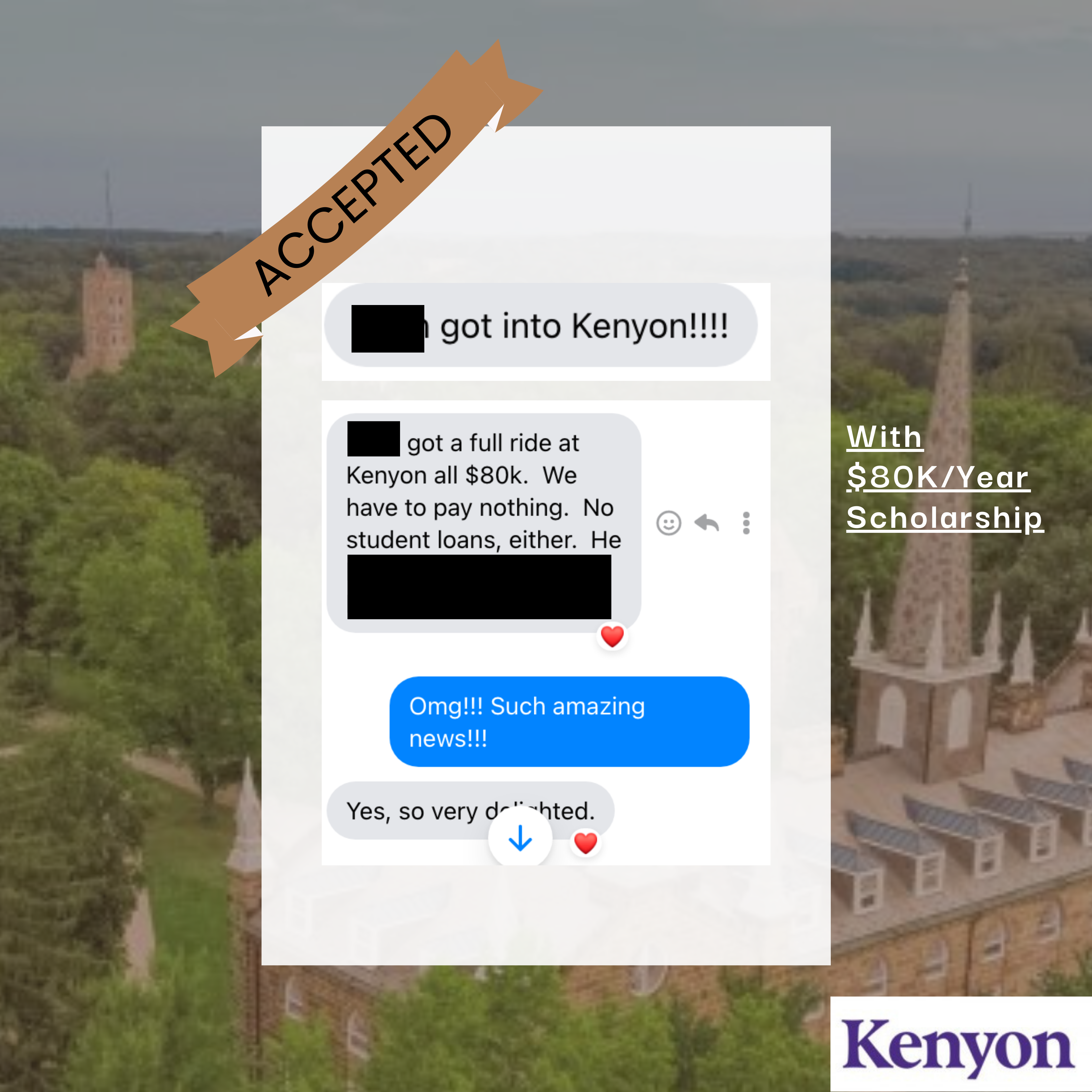 Kenyon College

George Washington University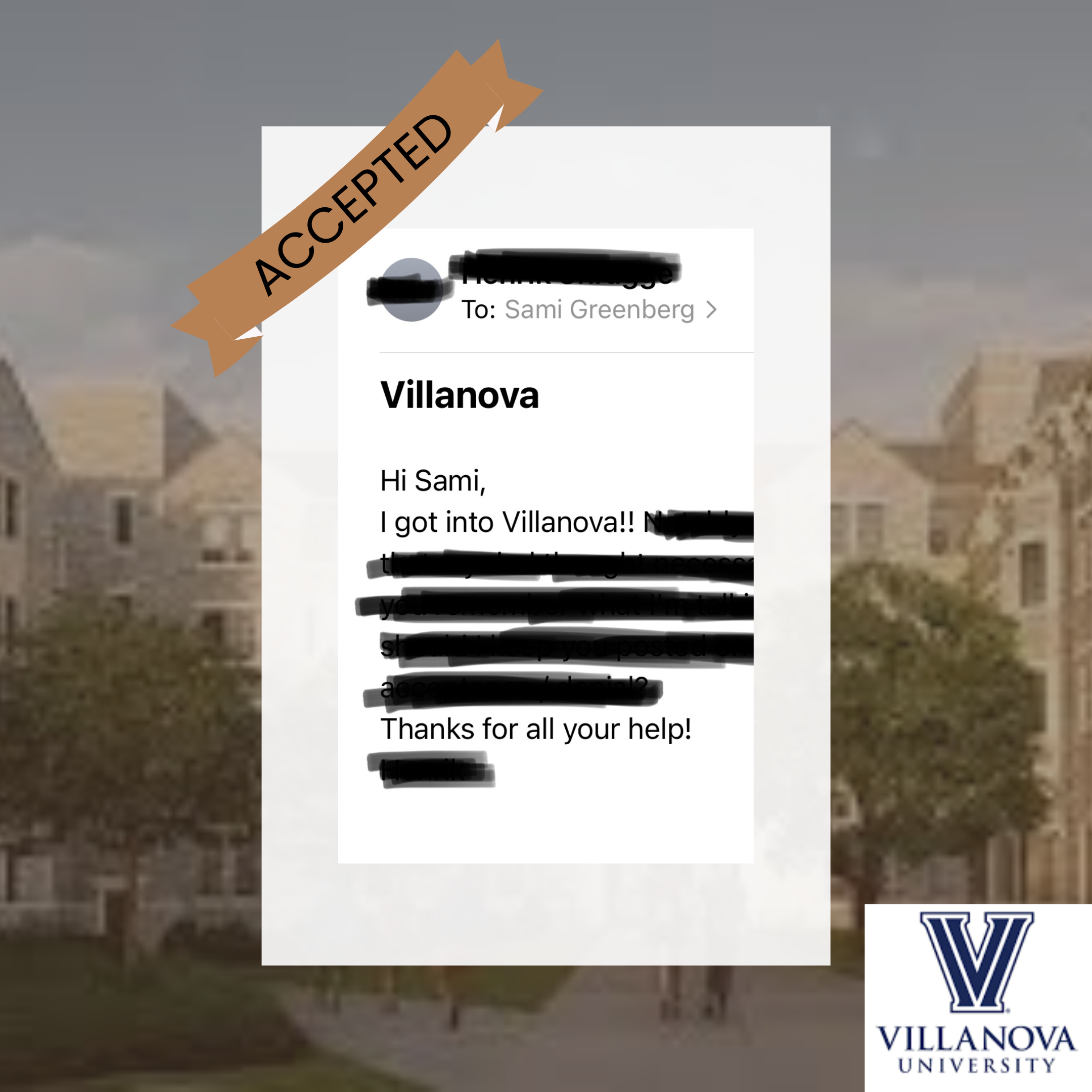 Villanova University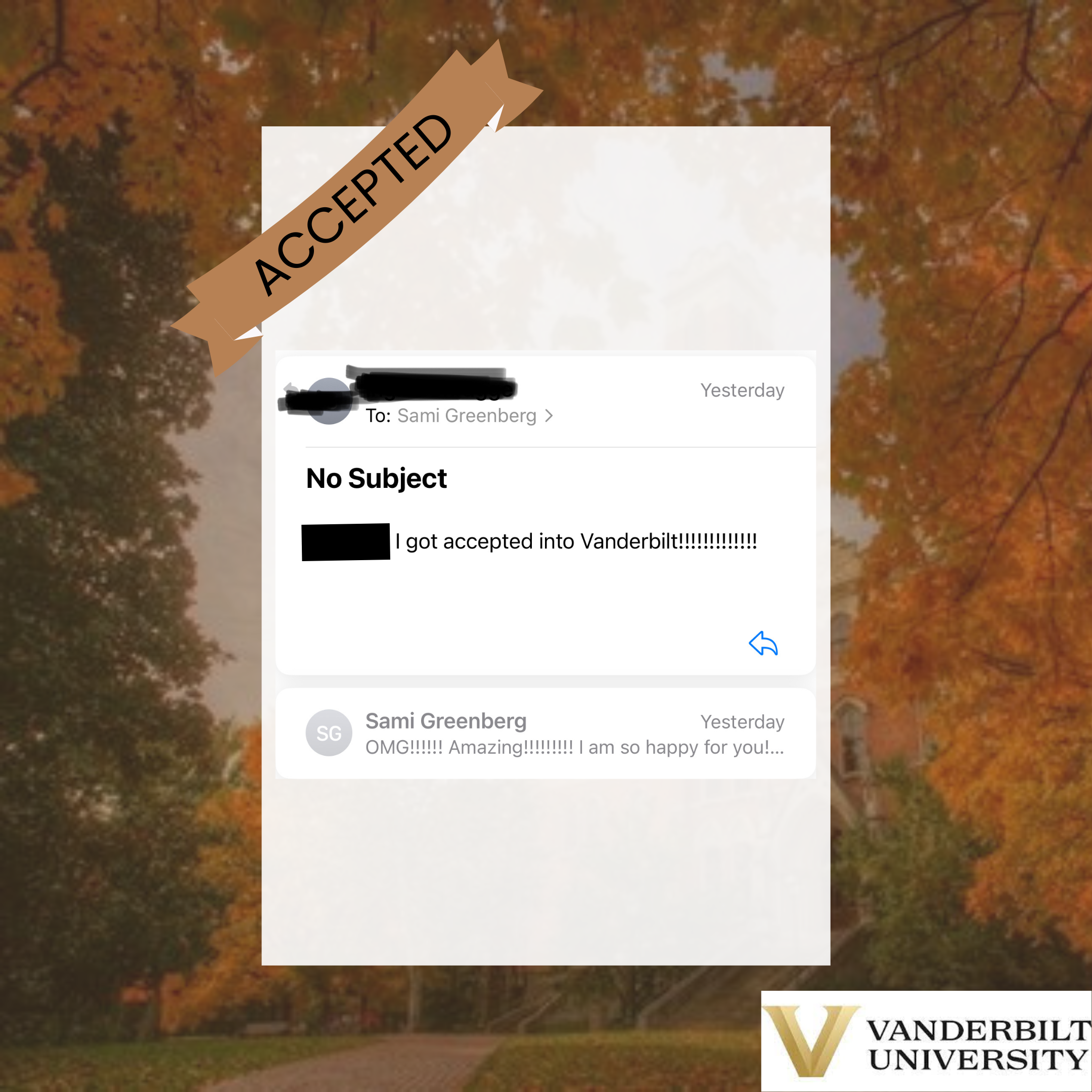 Vanderbilt University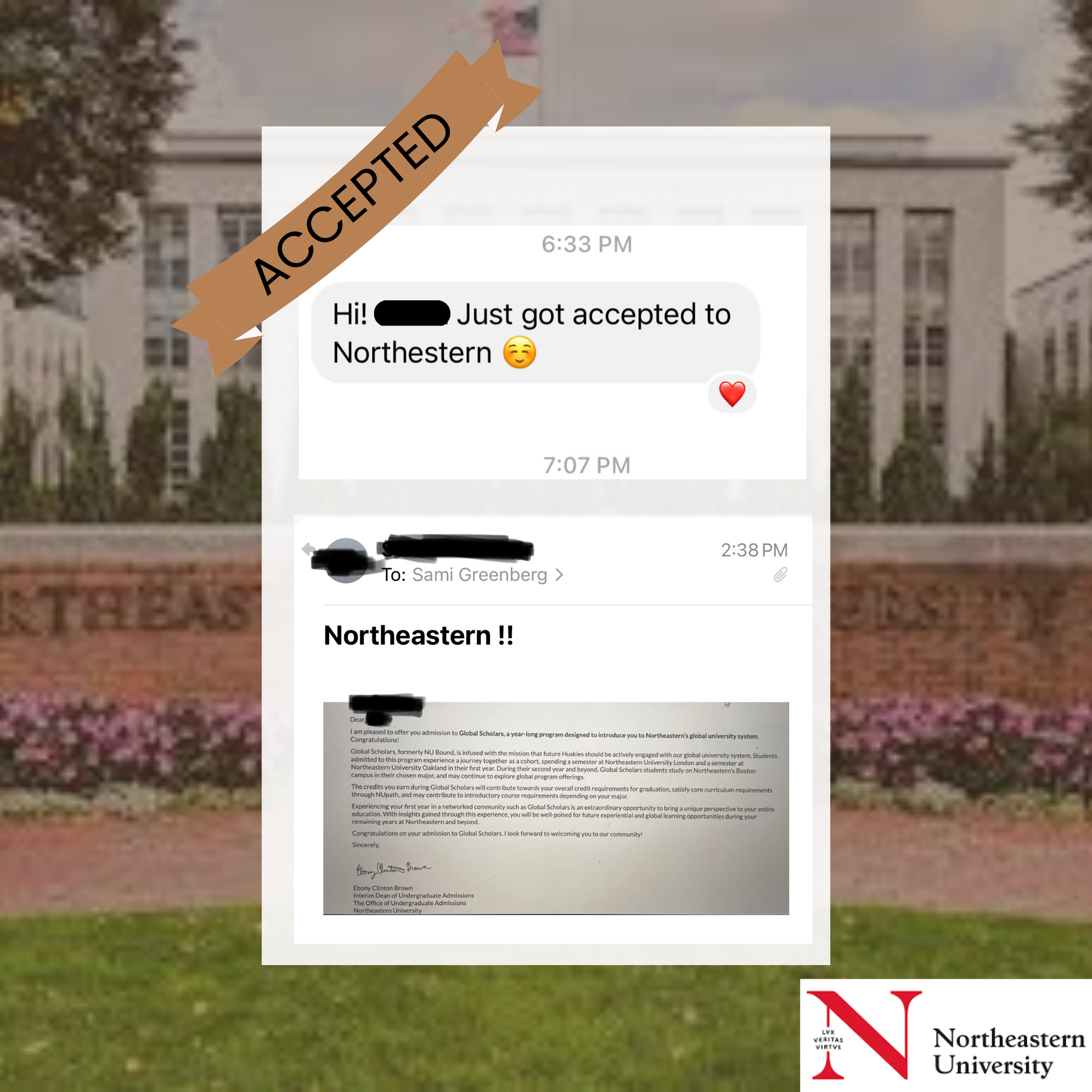 Northeastern University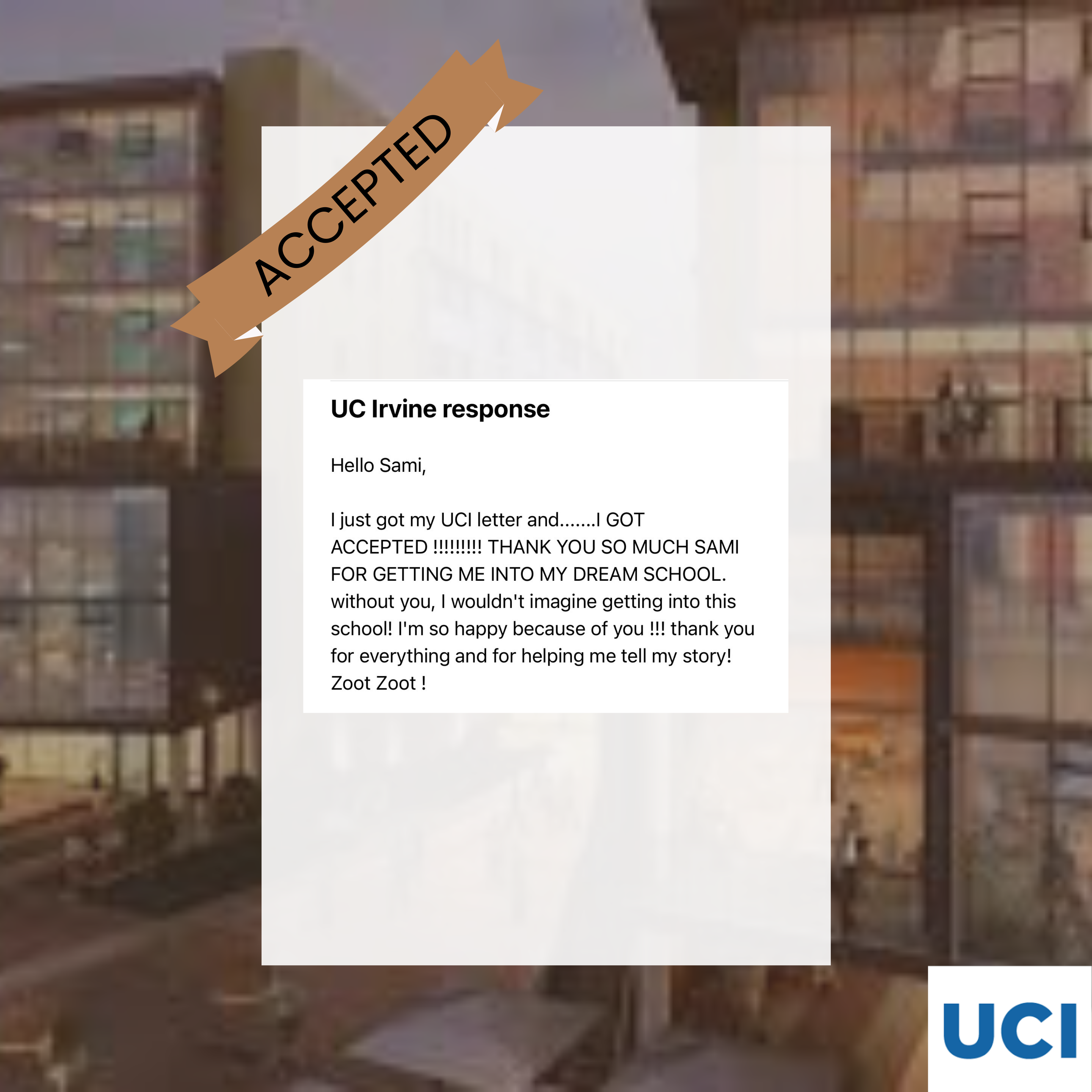 University of California Irvine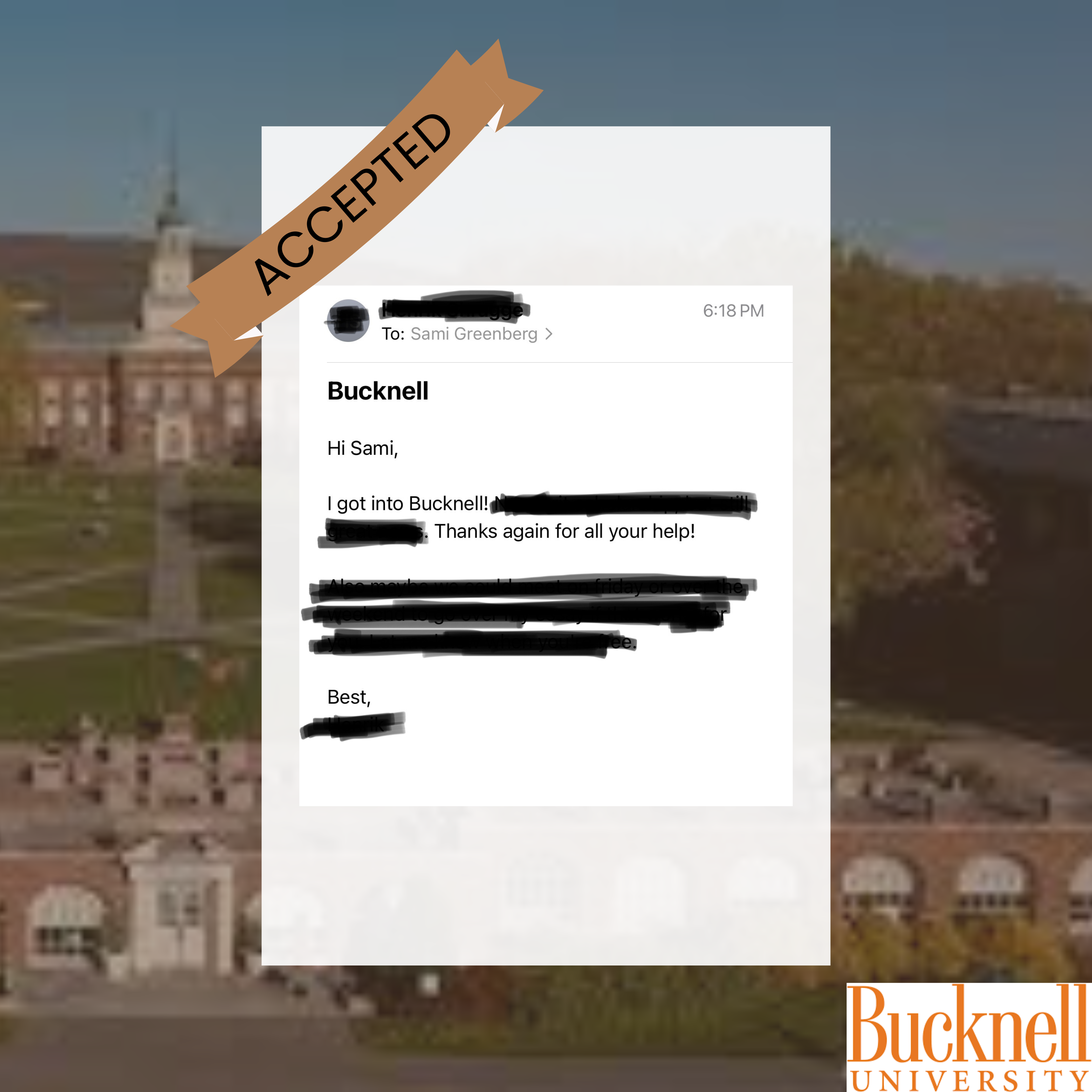 Bucknell University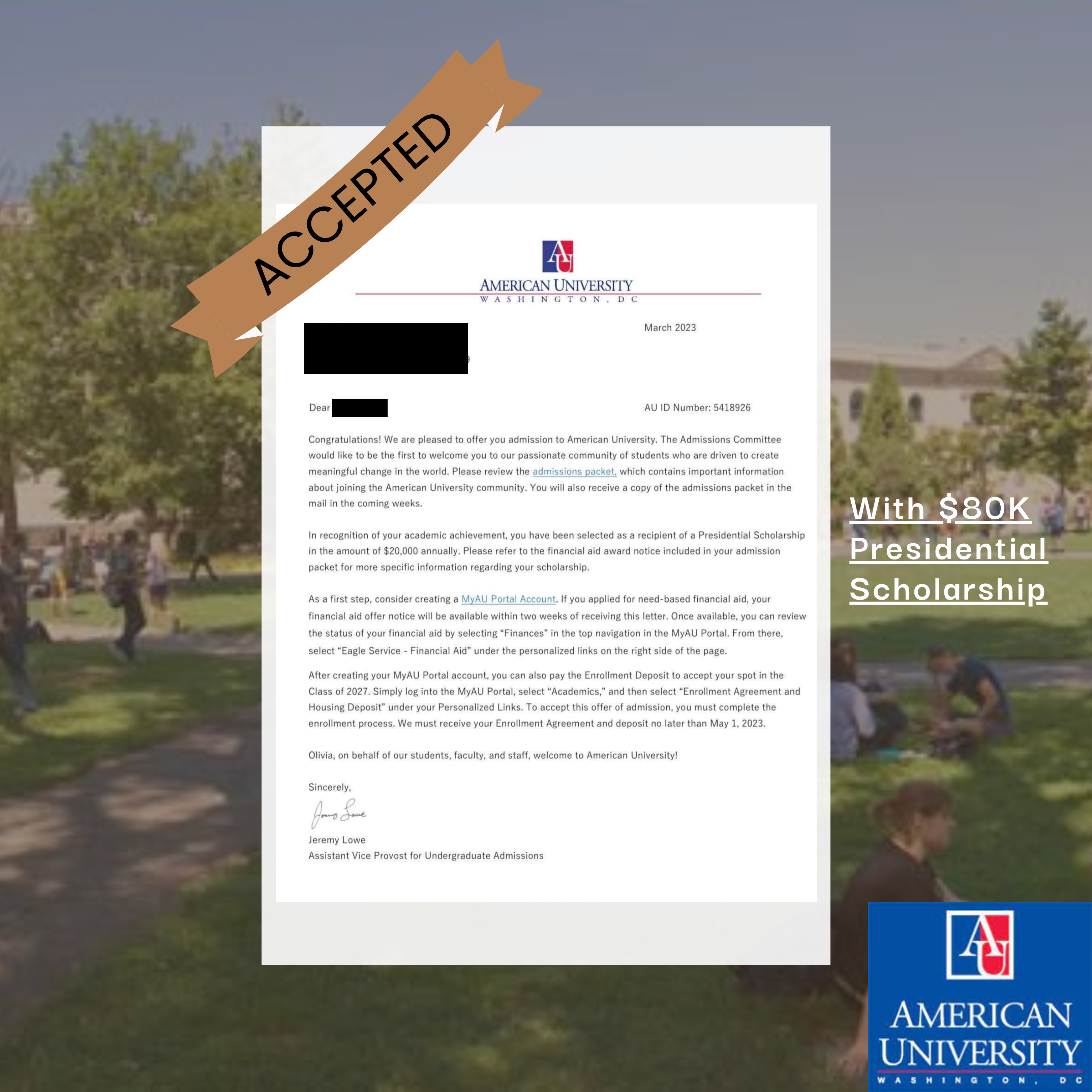 American University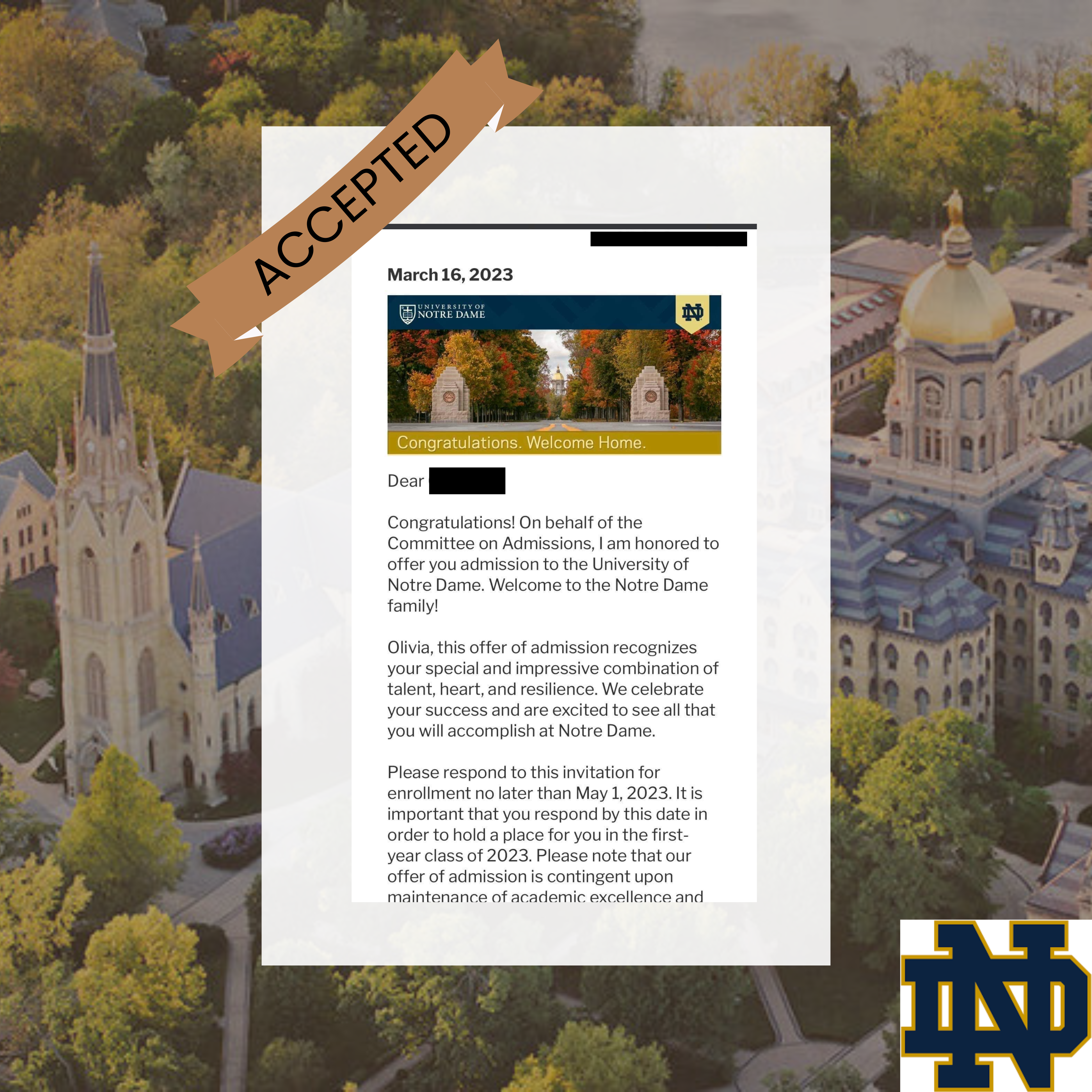 University of Notre Dame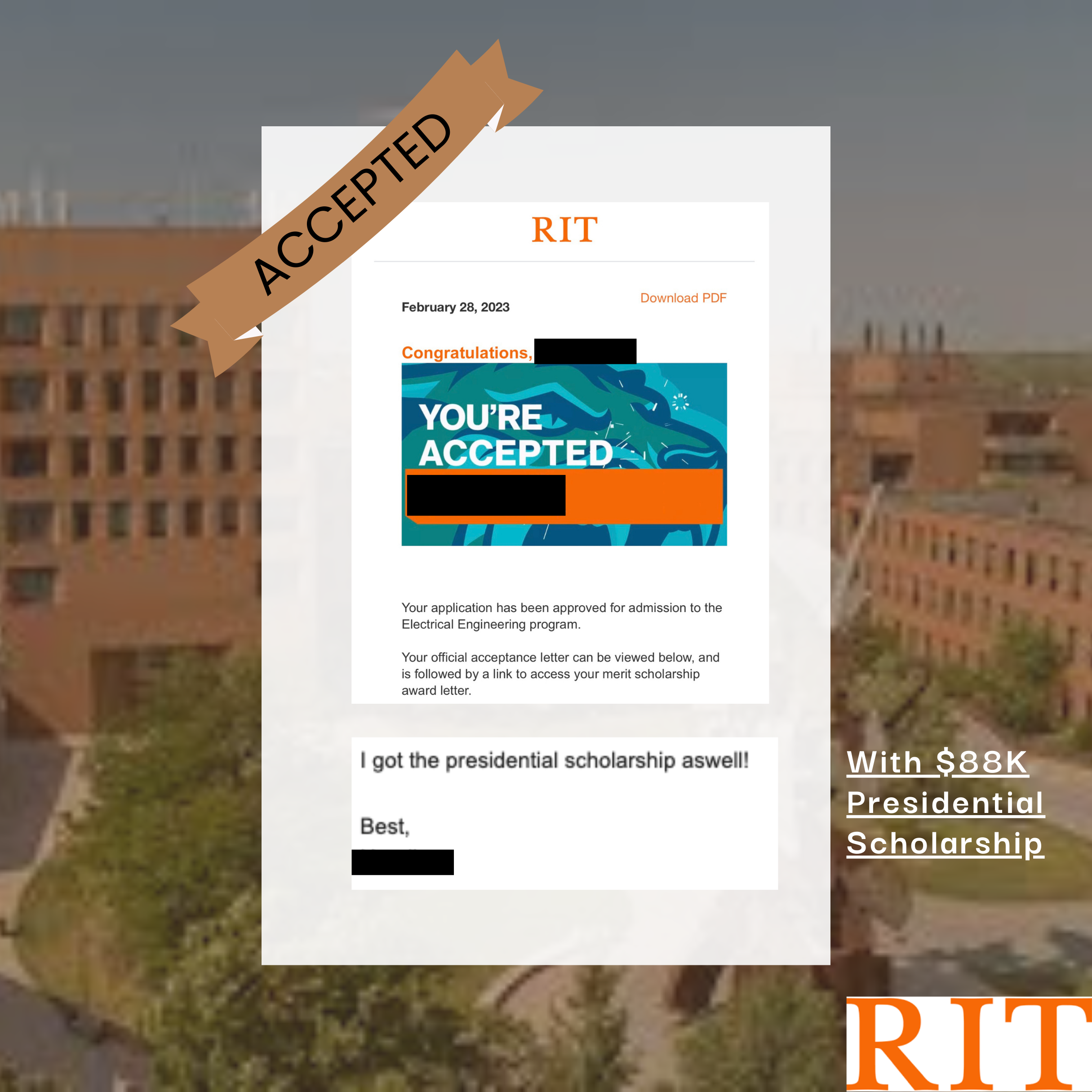 Rochester Institute of Technology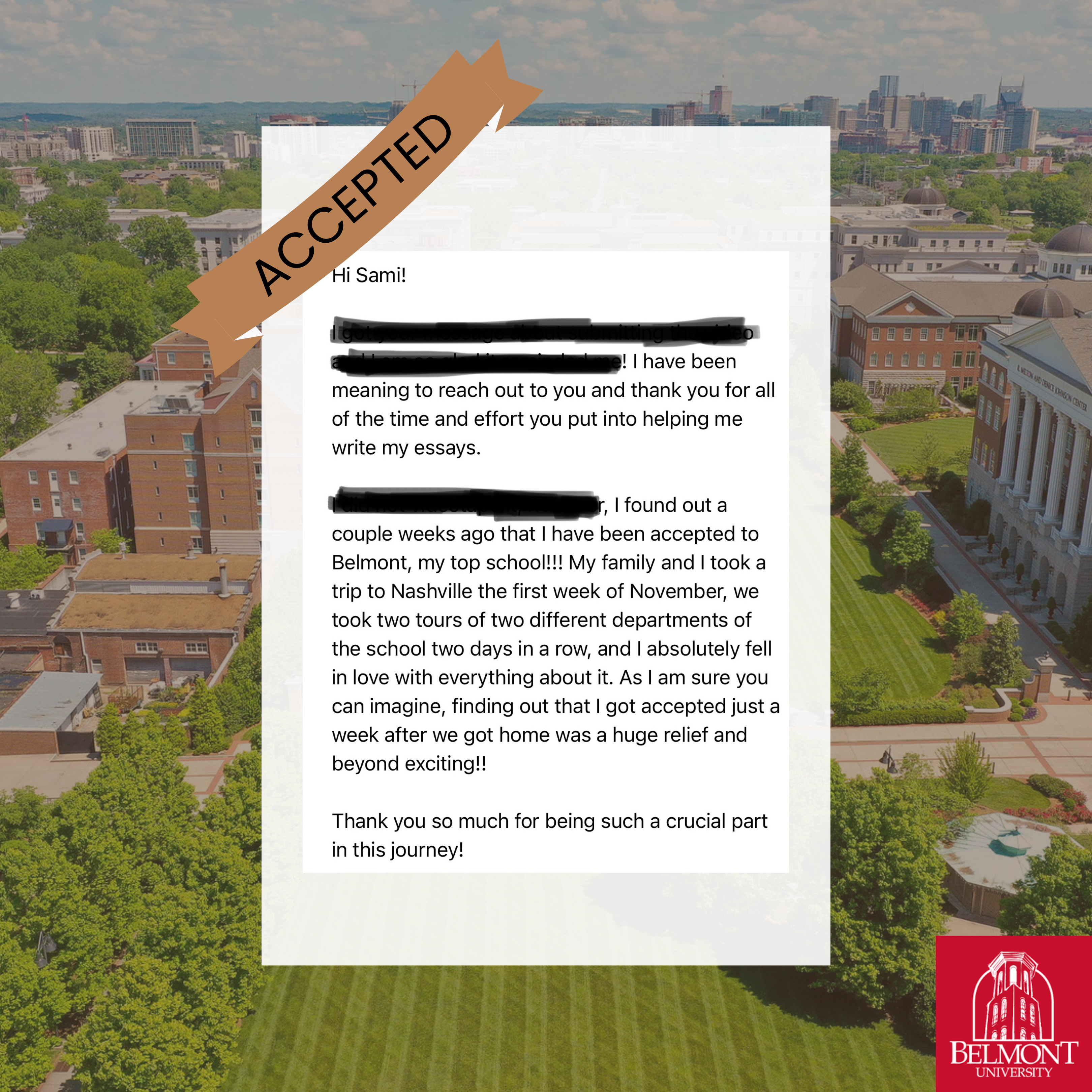 Belmont University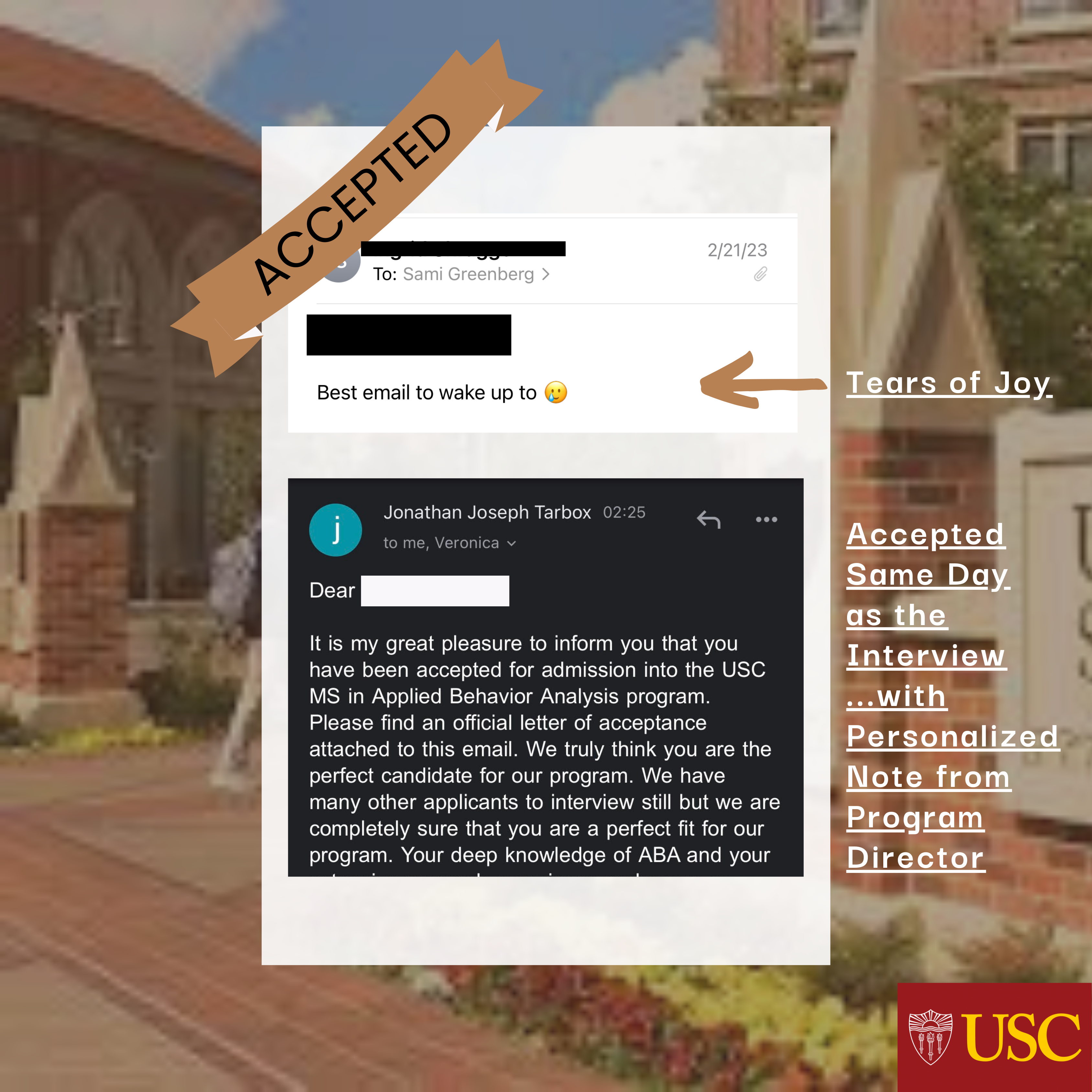 University of
Southern California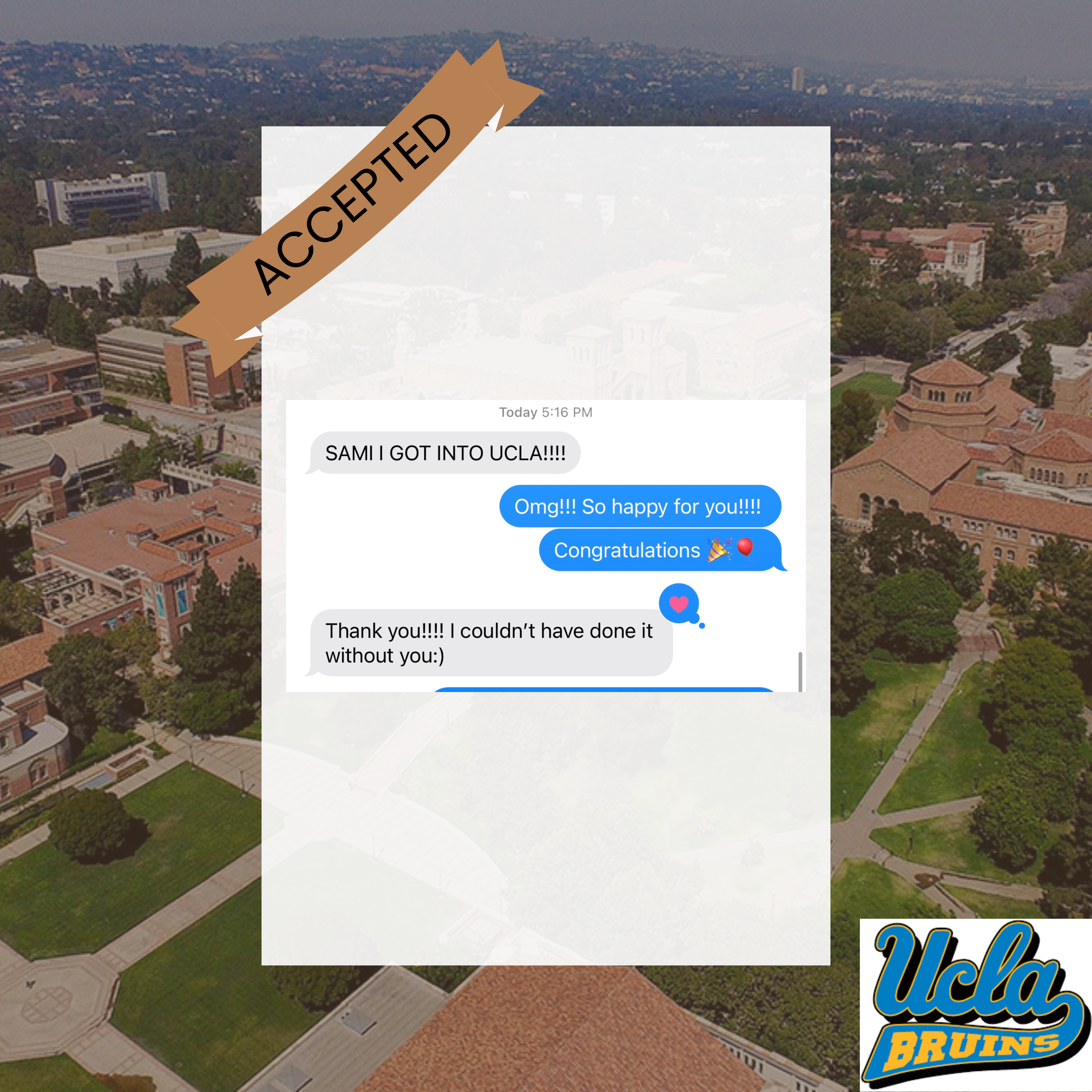 University of California
Los Angeles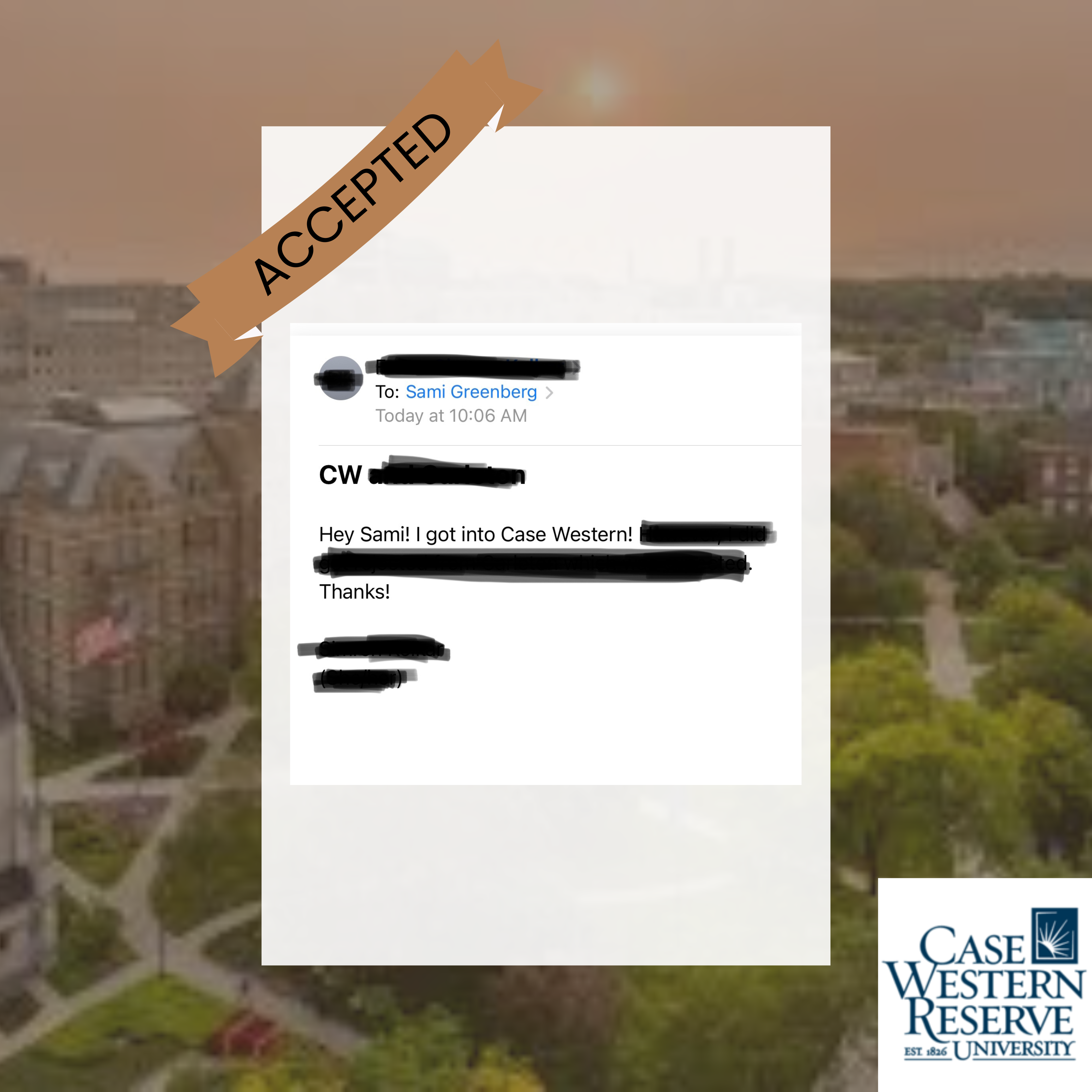 Case Western Reserve University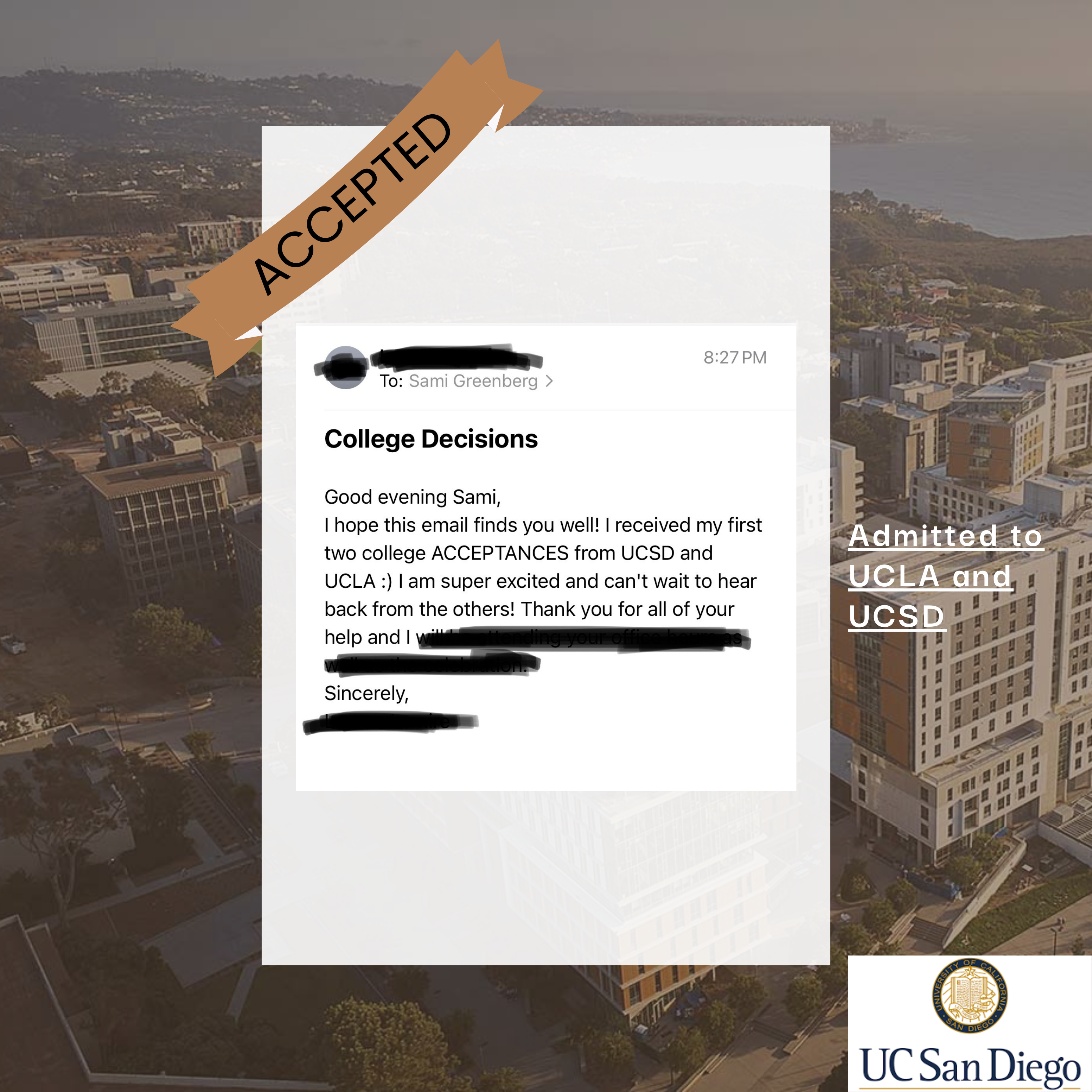 University of California
San Diego

Parent Testimonials

"We cannot recommend Sami enough. She said she would guide our son through the admissions process, and he would be accepted to a great school that he loved. She did and he was. He got into two private reach schools with a full ride of $80,000 with no loans at one.

The best part was she worked with our son every step of the way, and as a result, he learned how to outline and write a great essay, write a letter of continuing interest, complete an application in full, draft a stellar résumé, knock an interview out of the park, and select and be accepted to a great school for his interests and major. He'll use those skills for the rest of his life, especially grad school and job applications and interviews.

She taught him how to advocate for himself and highlight his strengths. Honestly, every high school student should have a semester in school with Sami. She'll change their lives instead of them having to learn the hard way by trial and error. College is too important not to learn the skills of how to apply.
As an attorney myself from a T30 university, I believe having Sami's guidance in how to write and interview is far more important than test scores or GPA because she teaches a student how to stand out, highlight their talents and explain any weaknesses in an application so that the admissions committee will understand that the applicant knows who they are, where they're going and what their priorities are. Showing a student has those critical thinking skills equates to an applicant that will succeed in college and thus is accepted.
We purchased the package in which she assisted our son from beginning to end and were blown away at the value. I felt the package didn't come close to costing what her hourly rate was worth. She helped him prioritize and map out every step they took. Beyond the value of helping him to get into an excellent, highly ranked school with a full ride, we're grateful for the time management and skill set she taught him. We didn't worry about anything because our son met every deadline thanks to Sami showing him how to create a schedule and stick to it. I could go on and on, but mainly want to say, I'm confident in choosing Sami to guide your student through the college application process, you'll come to be as pleased and grateful as we are. Not many professionals deliver on promises anymore, but Sami truly does. I'll miss her and the support and friendship the passed five months."
-Caryn, North Carolina
"We worked with Sami and could have not been happier with the help, support, guidance and patience Sami has given our son through this process so far.
We started late in the process and didn't think we would meet all the deadlines (meaning a senior in high school).
With Sami's guidance, she was able to guide and help our son through the essay writing process, application process and ensuring he met all the requirements and deadlines for all of out of state and within the state colleges.
She was professional, encouraging, resourceful. If I can ever recommend anyone it would definitely be Sami!! She has made my life as a parent so much easier, and stress free even though this has been a stressful process.Thank you Sami!! I know we're yet to wait and see what college"J" will pick even though he's gotten 3 acceptance letters so early in the process. Your experience and help were extremely helpful and valuable so far. We truly appreciate your support, patience and efforts throughout this process. Thank you!!!"
-Sheila, California
"We highly recommend working with Sami. Sami provided invaluable support to my daughter during early & UC college applications. Each session provided excellent resources, and impactful feedback that led to my daughter feeling confident in her application submissions. Sami's professional support significantly reduced my daughter stress level by getting her organized and being available on short notice. We plan on working with Sami again in the future, when our second daughter is preparing her college applications. Simply the best!"
-Jerilyn, California



Throwback Photo
For fun, this is me in 2010...
My Graduation Day at Cornell University.

Now... it's your turn.